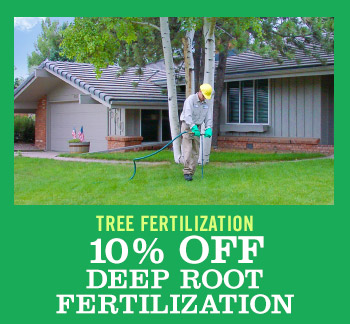 Our Colorado Springs roots go deep
Beautiful trees do more than enhance our landscape; they enhance the very quality of our lives by creating oxygen, shielding noise, increasing property value and curb appeal, and acting as vital shade for our homes, landscapes, lawns, and gardens. Mountain High has been taking care of trees in Colorado Springs and its neighborhoods since we opened in 1996; a branch of our Denver office that opened in 1974. Over the years we've learned what it takes to create healthy, vigorous trees in our semi-arid, Colorado environment. We take great pride in our reputation as a tree care expert, and we ensure our customer's ongoing trust and confidence by doing what's best for your landscape.
When you choose Mountain High Tree, you have full access to our expert Certified Arborists* who can handle all of your tree care and plant health care concerns. Our arborists travel on-site to conduct inspections and evaluate the health of your trees. We'll talk with you about what's needed and, if necessary, work with you to recommend treatments that can help your trees maintain and enhance their beauty and health. Our trusted tree care services include pruning and trimming, tree or stump removal, periodic trunk injections, root treatment, fertilization with environmentally sensitive sprays, supplemental watering, fire mitigation, lightning protection and more.
Call our Colorado Springs Office: 719.444.8800
or contact us online:

Our Certified Arborists in Colorado Springs can address any tree or plant health care concern you may have. We've included a list of our comprehensive services below and invite you to call us for a free custom consultation.
Tree Care Services
Trimming Trees & Shrubs
Pruning Trees & Shrubs
Tree & Shrub Removal
Stump Grinding
Cabling & Bracing
Specimen Tree Planting
Lightning Protection
Fire Mitigation
*Certified Arborist: Someone certified through the International Society of Arboriculture (ISA). They must have a minimum number of years' experience in arboriculture, and measured knowledge of trees, tree care and maintenance. Continuing education is required in order to maintain ISA standards, and keep certifications current.